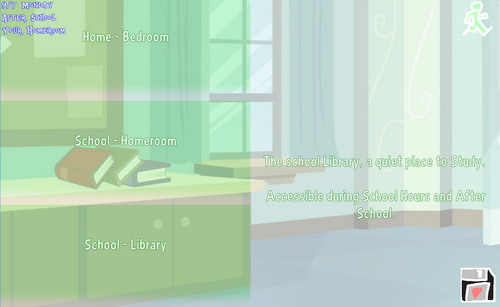 So this one took slightly longer than other builds, because instead of just tweaking a railroady intro cutscene, I had to write dialogue for if you DON'T trigger the new conversation and I cleaned up some other behind the scenes stuff. It's still 'hey here's a new build in like a day' so it isn't like progress is going TOO slowly.
In this build:

-The game now runs in true 1440x900. I can't believe I've had it running in 4:3 this whole time and never noticed.
-Fixed a bug related to trying to load an empty save. Also fixed bug where your name wasn't loaded.
-Dialogue options now look WAY better. Also fixed the bug where all the HUD elements would flicker in whenever you advanced text.
-Put a black outline around narration dialogue, blue outline around character dialogue. It helps differentiate them, without me having to go back and add quotation marks to every conversation.
-Put a lazy effect behind the name entry while you're typing. That way you know when you accidentally put spaces in there.
-The opening cutscene has been revised to be almost a tutorial, and more lines will be changed to tell you exactly how to play the game without having to look at the itch.io page.
-Also fixed some bugs in the opener. Cheerilee's lines now read properly, and you can press 4 to select option 4.
-I made location changing usable for human beings. It used to be a map, which I liked, but since the game world isn't pre-planned, it's easier to keep it abstract. So now, when you click the little person in the corner of the screen a list of locations appears. Left click one to go there, right click to exit.
Promises fulfilled from last time:
-A clickable thing that does nothing but advance time by 1. Useful for debugging, and will likely be removed in the final build.

Still have to do this, but may not need to if enough NPCs and options populate the map.

-Make location changing usable by humans. Right now only I can figure out how to navigate that map, it's absurd (click map > press 1 for principal's office, 2 for library, ugh) and only works for debugging. A list of locations will be added, with a text list of locations you can visit. Map would be nice if the entire game world was pre-planned, but since it's not, let's keep it abstract. DONE
-The Violet Room. I gotta knock out the most important part of the game somewhere along the way, right?

Will probably come in the next update or the one after that.

-Pause menu that has all characters, s-links, and stat progress.

WIll probably come next update.
Future plans:
-Tweak the game so Twilight's expression actually changes appropriately. It's not a lot of work, but everything else has been more important right now.
-Allow you to receive text messages. This could serve as an easy to access reminder of which s-links can be progressed right away. Sorry for saying it might cause a problem, I was just thinking of like, 'what if you get 6 at once', but then I realized I could put them in a little pause screen for the player to read or just ignore, like in real life.
-Enforce curfew. Right now when the last Twilight conversation ends you're standing there in the school library in the evening. I would have it warp you to your bedroom, but if you meet her during Lunch that could create ISSUES. So I'll look into fixing that next build.
Files
CHSr009-Default-1.0.0.4.exe
6 MB
Jun 15, 2017