The Actual Functional Bimbo Twi Update
---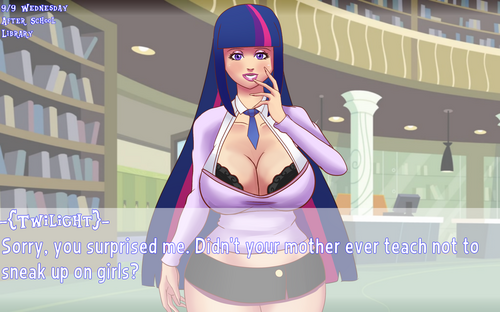 Art and writing in today's update come courtesy of Annon and C-Snacks

LOTS OF UPDATING AND MAINTENANCE IN THIS ONE:

I've run through Twilight's entire route again, can't find what bug people are bumping into where Twi leaves a letter at the Library and then you can't go to her house. You know it's only accessible in the Evenings right? If anyone is still having this trouble, please copy/paste your save file into a Pastebin and link it to me. You can find your save in C:\Users\[YOUR USERNAME HERE]\AppData\Local\CHSr012
Changed it so a character's stats can never go above 10 or below 0.
Bimbofication now adjusts the character's other stats properly, in every way applicable. For instance, when casting Bimbofy on Twilight this happens:

Bimbo level + 1*(how many broken hearts you have+1)
Charm + 1*(how many broken hearts you have+1)
Intelligence - 1*(how many broken hearts you have+1)
Guts + 1*(how many broken hearts you have+1)

These numbers will likely be adjusted as the game is worked on, but the system is in place, so hey that's something.

Cheerilee now appears in the Velvet Room spell menus. This is a placeholder for future content, please do not click it.
Twilight Bimbo S-Link 1 & 2 now work! You'll have to bimbofy her up to level 5 at least, which is also now possible even if we don't have scenes for it yet. Still, this stuff in there! Please enjoy.
New art assets we could use:
Bimbo Twilight Excited (Something for the first part of 'The vacuous expression, with her mouth hanging just low enough that her lips are parted into a small, tight 'o'-shape, quickly turns into a smile. "[Player]!" The teen's eyes widen as she brings two fingers to her lips and giggles. She smiles and then tries again, in a much more forced whisper." before she composes herself)
Bimbo Twilight Awkward/Nervous (It isn't until Twilight clears her throat that you realize you've been caught staring. Pulling your eyes away from her partially exposed lacy bra, you apologize. "D-don't worry about it, [Player]! I mean, you're not the only guy who's been staring at me lately."
Future update plans:
Whenever Cheerilee leaves the screen the pink hearts hearts fly up from the bottom of the screen. - I saw this for the first time today, it happens like a second after the normal school events end. No clue what it is, will investigate...
There's some ugly compression on the Bimbo Twi art, I'll be doing some backend stuff on GMS to fix this.
I need to add Annon's Art for Twi in her dress for S-Link 10
Cheerilee Bimbo/Story content
Twi Bimbo S-Link 3
Files
AA 0.31 Source Code
52 MB
Nov 24, 2017
Airhead Academy 0.31
62 MB
Nov 24, 2017